Cloud Adoption In Financial Services – Key Drivers, Challenges And Use Cases
The growing regulatory demand for enhanced transparency, rising capital requirements and increasing focus on customer experience have compelled the financial services industry to turn to the cloud. Additionally, companies from the financial services space face increased shareholder pressure for higher margins and faster growth. Cloud is emerging as the fundamental element for this digital transformation. Hence, many banks and non-banking financial companies (NBFCs) are employing it as a business strategy. It helps transform their business models, offerings, services & customer experience.
So, if you are an organization from this industry and considering cloud adoption, then this article will take you through:
Reasons For speedy cloud adoption by BFSI players
Key drivers accelerating cloud adoption in financial services
Cloud adoption trends in financial services
The risks and challenges associated with migrating to cloud
Cloud migration strategy for the FinTech industry
Cloud use cases for financial services
How KenmugRage can accelerate your transformation to the new normal
Reasons For Speedy Cloud Adoption By BFSI Players
Many financial companies migrate to the cloud in masses to transform their interactions with customers, staff and stakeholders. The Covid-19 pandemic has further pushed the scale and speed of its adoption in organizations. This helps lay the foundation for enhanced agility and support for cost-reduction, improved collaboration and increased innovation.
Banks & NBFCs have realized the potential of cloud infrastructure and how it can help them pursue comprehensive digitization initiatives. It is with a combination of functional and client-facing programs powered by artificial intelligence, blockchain & software solutions.
It's never been more imperative to get cloud right – to survive, thrive, innovate and keep up with competitors.
HIGHLIGHTS
In a services survey conducted by Harvard Business Review on 260 respondents who were aware of their organization's cloud adoption
83% stated that the cloud is vital to their organization's future growth and success.
69% shared that more than half of their existing infrastructure & apps would move to the cloud in the coming 2 years.
66% suggested leveraging analytics powered by ML or AI is exceptionally crucial to gaining insights across the IT infrastructure, applications and cloud services.
The pre-internet infrastructure of many financial companies were designed to facilitate a transaction-oriented industry approach. No wonder this legacy infrastructure is not geared to evolve and adapt to a digital marketplace where customers expect a top-notch experience with personalized products & service offerings.
Staying competitive and keeping the customer happy are the compelling reasons why banks are moving to the cloud & automating business processes.
Key Drivers Accelerating Cloud Adoption In Financial Services
The cost of deploying, managing and maintaining data centers, servers & systems in-house will continue to go up. And cloud migration would offer a cost-effective and secure alternative to financial organizations. Banks are accelerating the migration to cloud technologies in their drive to become future-ready and integrate with the emerging FinTech ecosystems.
The benefits beyond cost include:
Easy access to on-demand processing capabilities
An ever-evolving mix of tools to build innovative solutions
Cloud-native technologies to implement ongoing releases
AI, ML & process automation for improved customer experience
Flexibility to scale up to include additional apps & databases
Agility to optimize products and services quickly & securely
Connected data sets enabling deeper insights & better decisions
Enhanced resilience to physical outages & service disruptions
Cloud is emerging as a primary platform to unlock new products and offerings, essential to promoting customer engagement & advocacy. Financial services firms that prioritize its adoption can serve customers better and outperform across KPIs.
Cloud Adoption Trends In Financial Services Industry
The need to innovate & keep up against new market entrants are the key drivers for banks and financial firms to adopt the cloud. It enables organizations to cater to growing customer needs without compromising on security or bearing the cost of associated legacy infrastructure.

The financial services sector is fast-moving beyond confined, legacy IT systems to make the most of the agility and cost-efficiency offered by the cloud. But as they look to harness it's power, speed and flexibility, they they must also be prepared to navigate the challenges of security, compliance, and compatibility.
The Risks And Challenges Of Cloud Migration In The Financial Services Sector
The biggest challenges facing financial companies migrating to the cloud are:
Resistance to emerging technologies: Hinders executive buy-in for digital transformation initiatives
Data security concerns: A top-of-mind consideration for C-suite and IT decision-makers who're tasked with safeguarding confidential customer data
Regulatory compliance challenges: The ever-changing regulatory environment in the financial services industry adds to the complexities of new tech implementations
Cost: The inability to accurately estimate the total cost of ownership and identify the feasibility of migration-specific apps
Debt: Excessive IT debt and lack of steady, enforceable processes in the cloud environment
Financial Modeling: The inability to identify all the aspects of the cloud transition to arrive at a comprehensive financial framework
Rolling out a hybrid cloud migration seamlessly across different datacenters is challenging. Additionally, not knowing how to execute such a migration at scale can make it downright daunting.
There's a clear advantage to having an experienced cloud adoption partner with a proven track record of implementing full-stack migration strategies with a risk-mitigated method.
KenmugRage's structured adoption approach and agile methodologies can accelerate your transformation journey while ensuring a robust security foundation.
Cloud Migration Strategy For FinTech Industry
In the financial services sector, the possibility of migrating mission-critical apps and business functions to the cloud was once an ambitious goal. Today, it is a pressing need and a permanent reality for this industry.
So, if you want to move your sensitive business data and apps securely to the cloud, you can follow this 6-step strategy.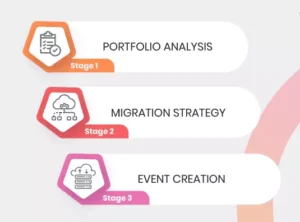 Portfolio Analysis
Examine current apps, systems & processes to build an inventory, verify dependencies and establish stability for the target state.
Migration Strategy
Determine the key apps suitable for cloud adoption and establish strategies defining how the migrations will be implemented.
Event Creation
Use key criteria to bundle apps & schedule migration events in alignment with business needs & blackout windows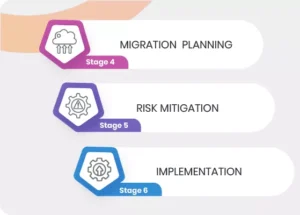 Migration Planning
Understand your infrastructure's unique risk exposure & risk tolerance and then define cut-over tasks to ensure readiness.
Risk Mitigation
Follow platform-specific best practices & use reliable file-transfer tools to mitigate the risk and maintain data integrity.
Implementation
Implement cloud adoption by orchestrating run-book tasks and verifying key checkpoints alongside post-certification.
As a cloud software development company, you can count on us to successfully migrate and manage the transformation right the first time.
We leverage our extensive knowledge and experience to speed up the time to market and enhance your customer experiences. With our superior change management support, proven risk mitigation approach & a tailored strategy, we align them to your business goals.
Cloud Use Cases For Financial Services
A Leading Canadian Bank Leveraged AWS to Generate More Revenue
Canada's leading financial services firm providing stock-trading solutions processed a fast-growing volume of financial data day in & day out. However, the firm was having difficulty scaling data analyzing platform using its existing on-premise infrastructure.
They decided to use Amazon Web Services for operating and scaling their database. Today the bank has much faster and better post-trade analysis capabilities. They could also optimize their trading operations and trade at better prices, increasing their revenue.
A Global Life Insurance Company used AWS Cloud to Overcome Security & Compliance Issues
A long-established life insurance company serving customers for nearly 150 years wanted to control its IT expenses. They used AWS alongside data centers in Nebraska & California to run their actuarial activities to create new insurance products and set their pricing.
Using a dedicated solution enabled them to scale up quickly and expand their computing capacity with less IT overhead than adding new data centers in-house. They not only benefit from the in-built security features but also ensure adherence to regulatory compliance requirements.
KenmugRage Software helps financial companies of any size transform their businesses and boost operational efficiency using AWS, Microsoft Azure, App Engine & SQL Azure. Our migration solutions bring you the agility to upscale and downscale your resources depending on your existing workloads and future business needs.
How KenmugRage Can Accelerate Your Transformation To The New Normal
Cloud adoption in financial services isn't new, but it's been accelerated to meet dynamic business needs and customer demands of a post-pandemic era. If moving to a hybrid environment and building robust and resilient technology is your focus, KenmugRage is here to help.
Helping You Stay Competitive With New Digital Capabilities
The financial services sector is coping with a dynamic landscape of emerging tech, fluctuating economic factors, evolving regulatory requirements and new competitive entrants.
Keeping up with competitors will need you to speed-up your cloud adoption journey to enable:
Digital Innovation: The need of the hour is to attract and engage clients with enhanced capabilities and the latest technologies that deliver a compelling digital experience.
Process Automation: Automation helps streamline, simplify and speed-up business processes, while cloud technology helps enhance scalability & resilience.
Compliance & Fraud Prevention: Whether adhering to the regulations governing data privacy or capital restrictions, we help ensure compliance and avert fraud without overburdening the organizations with cost & resources!