Cloud has emerged as a powerful technology disruptor that is constantly changing and challenging the IT landscape. It is compelling companies to adapt to the innovative paradigm or run the risk of becoming irrelevant. And, migrating to the cloud enables streamlining of critical IT processes and simplifying management of key business applications. It offers an opportunity for you to engage better with customers through agile operations and create long-term business value.
Though without comprehensive cloud management, the business is susceptible to security threats, data loss with costly downtime. So, whether you have a multi-tenant or hybrid cloud environment, a reliable Cloud Managed Service Provider(MSP) with extensive ecosystem knowledge can support your environment. Businesses across the globe have recognized them as dependable enablers of digital transformation and innovation. They can look into the complexities of managing workloads making it easier for you to streamline the mission-critical IT processes and key business applications.
If you are here looking to reap the full benefits of the cloud, then this post will help you understand the essentials of managed services and provide inputs on how to optimize your cloud environment.
So, let's dive right in!
What's in it for You:
What are cloud-managed services?
Why cloud managed services make sense for your business?
Major cloud management challenges & how to overcome them
Benefits of cloud managed services
Features of cloud managed services
What Is Cloud Managed Services?
Offering by a third-party service provider to help augment your IT infrastructure & in-house capabilities collaboration through cloud platforms. As an outcome it enhances the competencies they lack and fine-tune the processes and functions that consistently incur a huge cost. These services include:
Management of mobility and apps, network operations, IT life cycle & security operations.
Automation of key business processes
Optimization of recurring in-house IT expenses
Transformation of IT systems to achieve business goals
Depending on your unique business needs, cloud MSPs can also manage tracking & reporting, backup & recovery, performance testing and more.
Why Cloud Managed Services Make Sense For Your Business?
Managed services enable businesses to upgrade their IT infrastructure by leveraging skilled resources to deliver focused app operations, on-demand. A dedicated team can oversee the daily operations of specialized applications enabling in-house IT teams to focus on strategic programs and core business competencies. Here's how:
Leveraging the Latest Of Future Led Technology
Making sure that the entire IT infrastructure is up-to-date is challenging. Outdated applications disrupt the end-user experience and lead to dissatisfaction & unauthorized software workarounds. A dedicated service partner can enable enterprises to stay updated & manage the latest technologies with required enhancement, maintenance and upgrades.
Ensuring Security & Compliance
Cybersecurity is top-of-mind for CTOs & CIOs. Vulnerable points can multiply swiftly in today's hyper-connected corporate IT environments. Certified cloud MSPs employ data security and compliance experts to ensure that organizations remain fully compliant even as regulatory frameworks continue to evolve.
Streamlining Business Processes
Today's complex IT environment must be connected and capable of securely sharing data anytime, anywhere. Managed services ensure seamless integration between the enterprise apps & systems within the information management solutions to simplify processes
Leverage Fast response times
With enterprise-level monitoring and remote cloud services, businesses can expect quick response times. It enables easy access, monitoring & repair of virtually any network issue remotely.
Centralized network services and applications
With a centralized data center, a managed cloud network keeps constant track of all the applications and servers. It increases and optimizes the availability to further build storage and backup, as part of the unified network. Most importantly, it offers remote users easy access to data on any device.
Predictable yet recurring monthly costs
The cloud managed services offer flexibility to decide how an organization is willing to pay for IT services and have a consolidated view on investment over a month, half-yearly & annually. A fixed monthly service plan that's aligned to fit the needs or budget of an organization can even allow them to optimize the amount they pay for IT support.
Managing IT infrastructure is getting costlier by the day, both in human resources and hard cash. A managed cloud services provider can help streamline and simplify core processes to free up resources for you to focus on strategic initiatives.
Benefits Of Cloud Managed Services
Whether you're running your operations on a hybrid cloud or multi-tenant system, businesses of every size, scope & complexity can enjoy the following benefits from managed cloud services.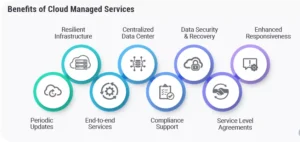 Resilient Infrastructure
Supported by 24X7 management and comprehensive network infrastructure, cloud MSPs provide reliable and robust infrastructure support. They handle everything from monitoring, reporting & updates to security patches, integrations & aligning of operations with your business goals.
Centralized Data Center
All the services and applications are managed and monitored at a centralized data center. This enables remote access to data, boosts productivity, ensures optimum utilization of resources, adequate storage, and periodic backup among other benefits.
Data Security & Recovery
Cloud managed services come with the assurance of data security through periodic backups and faster data recovery across all cloud apps and services. This always ensures business continuity and uninterrupted service delivery.
Enhanced Responsiveness
Addressing network problems locally is very different from troubleshooting issues remotely. In this case, cloud MSPs take total responsibility and ensure prompt and professional support for tackling issues, thereby saving your valuable time and effort.
Service Level Agreements
Cloud MSPs have SLAs in place for enhanced control across service levels. This helps your enterprise to have seamless service continuity.
Periodic Updates
Relying on an in-house tech team to track and manage updates of all types adequately is a little too much to ask for. It might result in delays with additional resources spent on training. Whereas, with cloud environment and assurance from managed services ensures that your data centers remain up and running at peak efficiency with timely updates.
End-to-end Services 
Cloud MSP services are inclusive of agile solutions that cater to your unique business needs. Some offer flexible payment plans or pay-per-use convenience, helping you prioritize your budget and cash flow. Cloud MSPs also offer converged solutions such as network monitoring, setting up a new service, or security protection.
Compliance Support
Whether you are an online store, a healthcare organization, or a financial services company subject to industry regulations, not adhering to data privacy and security regulations can invite hefty penalties and land you in big trouble. The MSPs can help you ensure compliance with industry regulations, for ex – HIPPA for the US Healthcare industry.
Features Of Cloud Managed Services
Cloud Operations
Manage all operations and infrastructure, including applications, platform, system performance, security, access, and capacity management using best industry practices and adhering to defined service levels.
Application Management
Manage and maintain critical business applications to extend operational support for integrations & customization along with app upgrades.
Service Management
Oversee all key elements of the cloud managed services program right from ideation & onboarding to execution & management. It enables enhanced collaboration with a single point of communication.
Scalable Cloud Platform
The ability to scale globally & swiftly deploy full-stack solutions with flexible frameworks & cloud technologies such as Microsoft Azure, AWS & App Engine.
Transparency & Optimization
An end-to-end view of the cloud environment & empirical information on consumption & usage designed to expand solution footprints.
Risk Management
Holistic risk management framework that standardizes the policies for design, implementation, security configurations, assessment & ongoing improvements.
Major Cloud Management Challenges & How To Overcome Them
Migrating workload to the cloud environment helps reduce the physical IT infrastructure and its associated costs. So, if you're still self-managing your critical business apps and processes, it can hinder the speed and agility you expected. And yes, even after migrating to the cloud. It is essential to scale and flex quickly to meet the ongoing market changes and challenges. Without this, your operations can become inefficient, expansion can be hampered, and business value can go untapped.
It is crucial to find the right technology partner for efficient cloud management. Outsourcing to an inexperienced company or a poor strategy can lead to:
Increased Operational Risks
Any failure on this can result in lapses across key business processes including the maintenance of proactive monitoring of the cloud environment around risk management strategies, cloud risk assessment framework and more. This can bring the operations of profitable models such as supply chain & sales to a screeching halt.
Increased Security Risks
Revenue-generating business applications running on the public cloud are more susceptible to cloud security threats. Taking this into account, it is necessary to have the best security strategy in place to avert such risks.
Ineffective Infrastructure Management
In the absence of the right service support, your cloud migration process can become expensive, tedious, and time-consuming. This may result in delays and additional costs.
Choosing the right technology partner, the most suitable deployment option, the best service model, and finalizing the type of workload to be migrated are of prime importance. Ensuring strict adherence to compliance, data security and privacy in the cloud migration are also crucial parameters to consider.
To Conclude
With this, we hope you realize that cloud-managed service providers have become critical business partners in today's competitive world. They help reduce costly overhead, manage systems & applications like your data center, and even support complex frameworks just like a hybrid cloud environment.
Why Rely On KenmugRage to Gain Resilience Through Cloud
Our focus aligns enterprises with top-notch security requirements, service level commitments and application expertise. Clearly defining strategies for future-proofing business can empower the teams with reliable, secure & fast solutions.
As a managed cloud services provider, we offer world-class cloud application development services across;
Rapid cloud deployments configured to your unique requirements
Robust compliance and data security features
The flexibility of the pay-per-use model
Enhanced productivity with optimized resources utilization
Uninterrupted business continuity with the easy handling of heavy workloads
From deployment to integration to ongoing support, our team manages the full solution stack under a single SLA.
We help enterprises build custom solutions that offer scalability with an integrated approach. By partnering with us, you can rest assured across every stage – right from transformation to advisory to optimization of information management apps. We leverage turnkey solutions to deliver security, scalability, and cost-efficiency throughout the cloud journey.